Gulf states hint at possible expulsion of Qatar from regional bloc
UAE foreign minister expected to claim blockade on Qatar is working but the Gulf group remains adamant Doha has to change political course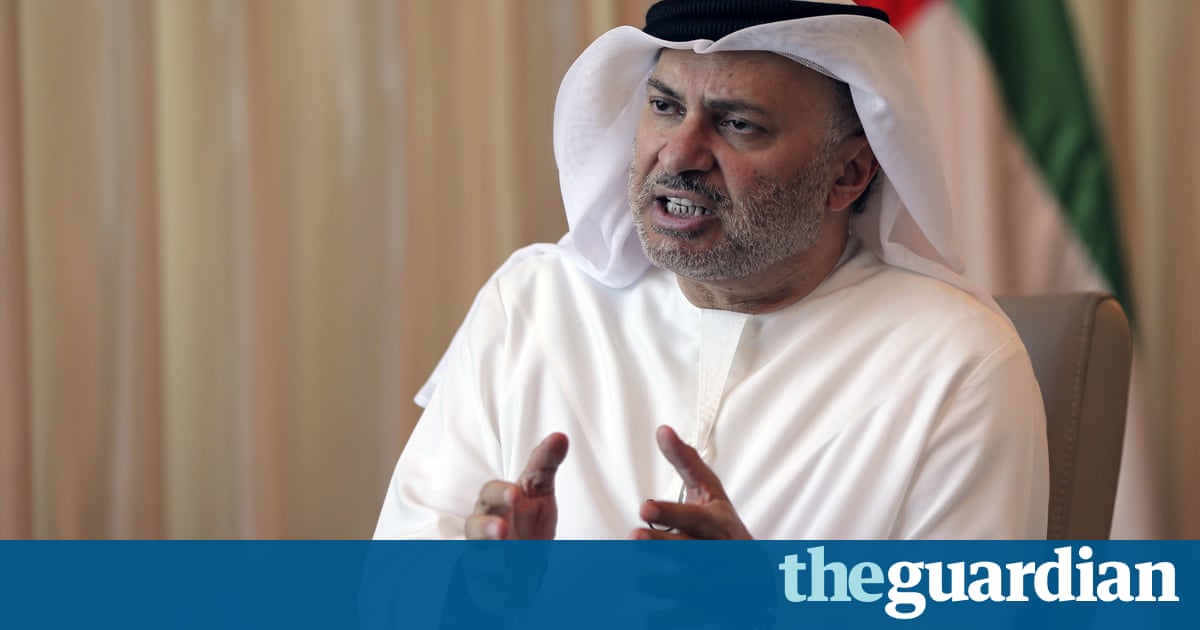 The Gulf states trying to force Qatar to change political course have given their strongest hint yet that they plan to expel Qatar from the Gulf Cooperation Council, the regional trade and security group.
In a speech on Monday, the United Arab Emirates foreign minister, Anwar Gargash, will warn: You can't be part of a regional organization dedicated to strengthening mutual security and furthering mutual interests. At the same time undermine that security and harm those interests. You can't be both our friend and the friend of al-Qaida.
he'll insist the six-week long boycott of Qatar is starting to work and reject the suggestion the four anti-Qatar allies the UAE, Saudi Arabia, Egypt and Bahrain have miscalculated, by claiming that Doha is already making concessions.
Gargash will claim a direct result of the blockades pressure is Qatars private promises to western powers that it'll review the list of 59 extremists the UAE claims are in Doha. The UAE also wants the individuals arrested or expelled, along with 12 named organizations.
Qatars decision last week to sign a memorandum of understanding on terrorist financing with the US has been hailed as a positive development by the foreign minister.
But the overall tone of the speech, to be delivered at Chatham House in London, is uncompromising and contains claims Qatar funded the Libyan Islamic Fighting Group (LIFG), the jihadi group that trained the Manchester suicide bomber.
Claiming the UAE has been warning of an extremist threat since the 1980s, he describes Qatar as a very wealthy state, with $300bn (230bn) in reserves, which is wedded to extremist jihadism and terrorism.
The speech is set to disappoint the succession of western foreign ministers who have traveled to the Gulf in a bid to mediate in the dispute. They've all warned the confrontation is threatening long term instability and investors may pull out if it's not settled quickly, inflicting long-term economic damage.
Understandably many of our friends in Europe and beyond are concerned about this crisis, Gargash will say. They see the Arab Gulf as a haven of stability in an unstable Middle East. As an important and functioning common market. Many would argue that it's one of the few Arab bulwarks against further Iranian expansion. We understand and respect those concerns.
But as we know from meetings with American and European officials, they're also aware of Qatars duplicity.
he'll claim Qatars leaders aren't themselves jihadis. Saw an opportunity to secure influence. They believed that extremist Islamist movements were going to dominate the Middle East and they wanted opportunistically to harness them as allies, he'll say. it's a policy that's gone wrong, fuelled by money and wayward ambition. Qatar foolishly tried to ride the tiger of jihadism.
Gargash will deny the blockade of Qatar is motivated by differences with other Gulf states over the Muslim Brotherhood, insisting that the UAEs list of 59 individuals and 12 organizations includes those with proven connections to al-Qaida and similar organizations.
Nevertheless, Qatar denies it sponsors extremism and says the moves against it are aimed at stifling a foreign policy that's carved a more independent route than its Gulf neighbours on Iran with whom Qatar shares a gas field and during the Arab spring.
Read more: https://www.theguardian.com/world/2017/jul/17/gulf-states-hint-at-possible-expulsion-of-qatar-from-regional-bloc